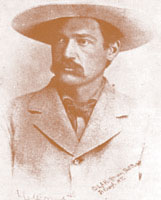 XX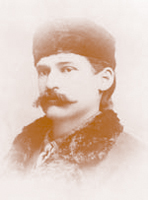 Born Luther S. Kelly on July 27, 1849 In New York, "Yellowstone" Kelly earned his name scouting for the Army on the Yellowstone River in the 1870' sand 1880's. Kelly served in the Civil War, then finished his enlistment in the west where he discovered the unequaled beauty and bounty of the Yellowstone River Valley. He spent years there hunting and trapping and guiding government expeditions throughout the area beginning in 1873 as head scout on a fact-finding mission for George Forsyth.
From 1876 to 1878 he served as Chief of Scouts for Nelson Miles at Wolf Mountain and the Tongue River battles. He took part in the military chase of the Nez Perce at Cow Island and the Bear Paw Mountains.
According to his memoirs, Kelly defended himself against a pair of Sioux Indians with his Henry carbine, and later owned a Winchester 1866 rifle. It is also said that he carried a long breech loading Springfield rifle covered from muzzle to stock with the skin of a huge bull snake and was as likely to quote Shakespeare as skin a beaver.
Kelly later guided two expeditions into Alaska, served as the Captain of Volunteers in the Philippines then accepted a post as agent of the San Carlos Indian Reservation.
Yellowstone Kelly finally retired in California where he died on Dec. 17, 1928. At his request he was buried at the summit of Kelly Mountain in Billings Montana overlooking the land he scouted and loved.
Nelson Miles once said of the man, "Yellowstone Kelly was of a good family, well educated and fond of good books, as quite and gentle as he was brave, as kind and generous as he was forceful, a great hunter and an expert rifleman; he explored that extensive northwest country years before serious hostilities occurred and acquired a knowledge of its topography, climate and resources that was extremely valuable."